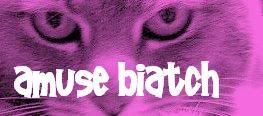 Last week, Jennifer from Chicago (no relation, friend or acquaintance of ours, as far as we know) sent us this lovely (and much appreciated)
petit mot
:
I'm not sure if this is where I should properly say this...your blog has got to be one of the more interesting I've read in quite a while. I hope you keep this up for "Top Design" to follow "Top Chef" on Bravo! The drama is so addictive! .... On another note...silly question really...does anyone out there know what brand of eyeglasses Elia wears on the show? They're super cute...I have to have! Ciao. Jennifer - Chicago, Il

Alas, we have no idea what brand of eyeglasses Elia wears on the show, but we were taken with Jennifer's idea about
Top Design
. Before Jennifer came along, we had toyed with the idea of applying the patented Amuse-Biatch formula to
Top Design
, and had more or less decided against it. But as we pondered what life would be like without
Top Chef
, and what the state of our sanity would be without this outlet, we thought it wise to reconsider. We still haven't made a final decision, and before committing to anything, we wanted to see whether there was any interest from our readers (all five of you) in such an endeavor. We know what Jennifer thinks, but what about the other four of you? Let us know, possums, whether Tinkerbell should live or die.