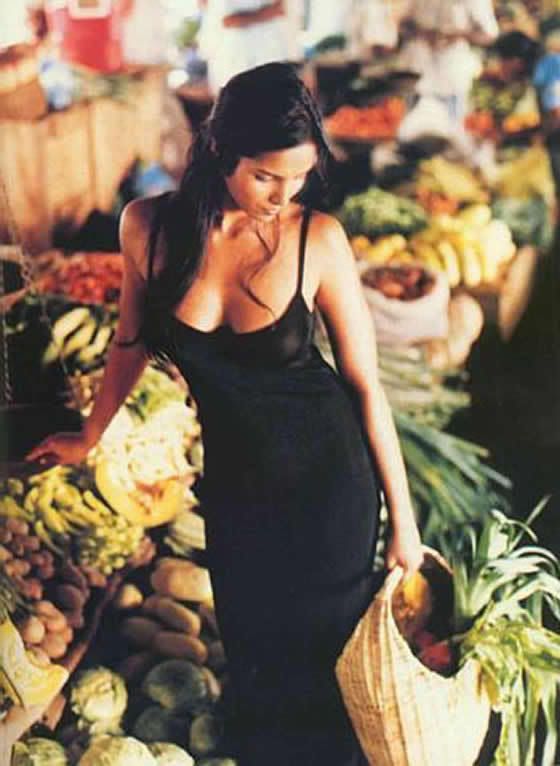 Now, this photograph (which we find strangely...stirring...must resist...must not...ooh, look at how artfully that tendril of hair is arranged over her left breast...and look at how fabulous her shopping basket is...oh good, we're back to ourselves) isn't just an excuse for us to make another Spice Rack joke now that Betty Fraser, our original Spice Rack, is gone from the show.
(Watching last week's episode again, we wondered what the show's editors are going to do for reaction shots now that Spice Rack is not around to telegraph every emotion and plot point. Whenever a reaction to any of Padma's pronouncements and proclamations about challenges was called for--wide-eyed glee, frowning concern, brow-furrowing suspense--Betty was there to provide it. It was like watching Derek Zoolander trying to channel Lillian Gish.)
Padma actually did play a role in the screen version of
Mistress of Spices
, the novel by Chitra Banerjee Divakaruni. As has often been the case with Padma's film projects, the critics were not kind (though, in all fairness, her work in this film wasn't mentioned):
From the
New York Times
:
"Imagine Alfonso Arau's Like Water for Chocolate without the passion. Imagine Lasse Hallstrom's Chocolat if the chocolates that Juliette Binoche was selling became angry with her....This is a one-dimensional, sometimes illogical film, but it's certainly good-looking....the photography often looks like an enticing food-magazine layout."
From
Variety
:
"

Beautiful but lifeless, poetic but unelevated...."
According to IMDB, one of the movie's subplots involves "a man (Anupam Kher) who is distressed over his granddaughter (Padma Lakshmi), a woman who has grown up in America and adopted western [sic] ways, much to his dismay." Have any of you, gentle possums, seen the film? Was Padma, a woman who has grown up in America and adopted Western ways, good in the part of a woman who has grown up in America and adopted western ways? Let us know.